PlusMana pride ourselves on offering analytical views on everything gaming – including your gaming setup! Why shouldn't the place where you spend the most time of your day be fit for a king or queen? If you are looking to build a gaming setup that will make other envious, our series of gaming setup guides is the perfect place to start!
Full credits to OrangeMustard1 on Reddit for this amazing setup (shoutout to Killer_Khalsa on his behalf). Images on this article are copyright to its respectful owners. 
Ambient Lighting Can Do Wonders
The underlying setup of the room is by itself clean and neat. However, what makes this setup stand out versus any ordinary gaming setup you will see is the red ambient lighting that lines the desk. Combined with extremely well-managed cables (we don't see any!),  this gaming setup gives of a real futuristic vible. Imagine coming home after a long day of work and being able to immerse yourself in your favourite games, in such a setting – this is definitely something many would be envious of.
Dual Monitor Setup – Vertical and Horizontal
This gaming setup utilizes a dual monitor setup, a horizontal 34″ Dell U3415W and vertical 24″ Dell 2408WFP. It is obvious that the games will be played on the 34″ ultrawide Dell U3415W for all that UWQHD visual goodness and widescreen immersion.
The vertical 24″ Dell 2408WFP acts as a great companion for gamers – potrait orientation makes it is ideal for displaying webpages (e.g. game guides, tips, sub-reddits related to the game you are playing), or it can be it can be used to display your song playlists, social media, instant messengers should you be the kind to multi-task whilst gaming.
Dell U3415W – 34″ Gaming Monitor
The Dell U3415W offers something special to gamers, especially those who are a fan of modern games sporting an open environenment where gamers have a 360-degree view (think AAA games like Skyrim, Witcher 3, No Man's Sky). Its 3440 x 1400 pixels resolution (which provides greater pixdel density than non-ultrawide monitors), coupled with the monitor having a built-in curvature, result in you being 'closer' to the screen and hence more immersive gameplay.
The top and sides the bezels are extremely thin and is space grey in colour – an important attribute to have, as it takes nothing away from the ambient lighting that you are looking to carry the 'feel' of your gaming setup.
Dell UltraSharp U2414H – 24″ Monitor
Nothing too much to comment about this monitor for gamers – used as a potrait orientation, it is almost never to be used for gaming purposes. Any monitor that is capable of being used in a vertical fashion is fine in the setup you are trying to replicate as well.
Though product description says it is meant for TV wall mounts, it definitely supports the weight of the Dell U3415W (weighs 24.8 lbs), as the mount supports up to 44 lbs. Feel free to use other wall mounts that support the same VESA configuration and weight thresholds. Do note that instead of using a standard standing monitor mount, mounting your monitor to the wall reduces clutter on your desk. This is a big reason behind why the setup looks so minimalistic, as you free up significant space on the desk by not having a monitor stand.
Most gamers go about purchasing their peripherals without giving two-thoughts about how the aesthetics look. To such people, all that matters is whether their keyboard or mouse is suitable for gaming (how many side buttons it has, does it allow for macros to be stored etc.).
However, if you are truly looking to build a setup that has a real 'wow' effect, such small details can't be overlooked – notice how in this particular setup, the keyboard and mouse lightning matches the same shade of red as the ambient lighting of the desk. Heck, even the mat the keyboard and mouse is placed on has a shade of red to it.
Logitech G810 Gaming Keyboard
Nothing too special, has the stuff you have probably come to expect out of a gaming keyboard – mechanical key switches, customizable keys (macros, key re-bindings, multikey inputs etc. More importantly, it allows you to configure the backlighting of the keyboard across a full spectrum RGB.
Likewise, this is a gaming mouse that works with customizable keys, side buttons and other features you will appreciate as a gamer. And of course, the Logitech G502 Proteus mouse also allows you to customize the backlight to the red that you are looking for.
Any other gaming mat with tones of red would also do the trick – congruent with the overall theme of red for the room.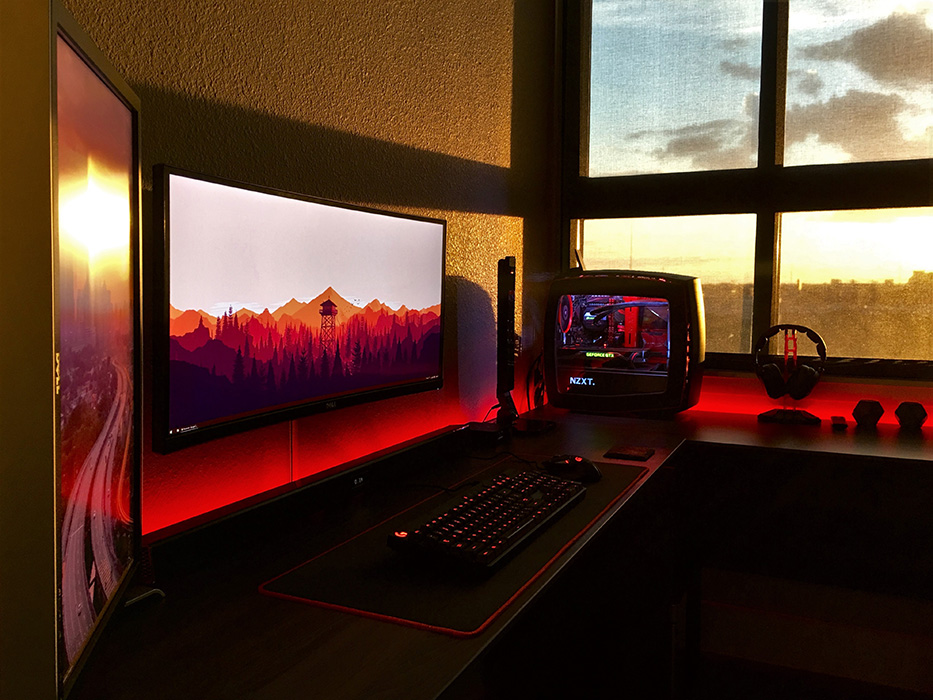 Red E-SDS Acrylic Gaming Headset Stand
While you could go for the more traditional and expensive wooden headset stands, in lieu of your 'red' theme, the E-SDS Acrylic Gaming Headset Stand might fit in better (not to mention costing less as well).
Perched nicely upon the red headset stand is the SteelSeries Siberia 800 Wireless Gaming Headset. A wireless headset offers the small benefit of having no cables to manage, and with Dolby 7.1 enabled, this could be your ideal companion for a truly immersive gaming experience.
Another minimalistic component that works on wireless (aligned with the whole idea of minimalism, no cable management required).
Without question, given its sheer size versus the other components in your room, the gaming rig itself is arguably the most noticeable component in the whole room. By that very defination, you would have to take upmost care to ensure the look of your rig fits the setting of the room. In this particular case, the rig is decked out in all red, without compromising on the raw horsepower that a gaming enthuasiast require.
NZXT Manta Mini-ITX (Red)
The NZXT Manta (red) chasis is a top consideration if you are looking to complete your setup. Do a quick google search and you would see it comes with ample room for builts with top-performance cards that tends to be longer in size. This is crucial, given how you are looking to push the high end of graphic settings on a resolution as large as 3440 x 1440 pixels on your 34″ widescreen mnitor.
The slightly curved design is inspired by a Ferrari 458 Italia (which tends to come commonly in a red variant as well). Cable management features are ample and well-thought, as you can see from the above, one can easily hide the cables without too much hassle.
We have listed down the individual components within the chasis below, to ensure you can replicate the exact same look as what we have in the picture (do make sure you choose the red variant where applicable):
CPU: Intel Core i7-6700K
Graphics: GTX 1080 Founders Edition
Motherboard: ASUS Z170I PRO GAMING
RAM: 16GB G.SKILL Ripjaws 4 Series
SSD: Kingston HyperX Savage 480GB SSD
HDD: Western Digital Black 2TB
Lighting: NZXT Hue+
Power supply: EVGA SuperNOVA 750 P2 80+ PLATINUM
CPU Cooler: Corsair Hydro Series H100i
GTX Fans: 3x Corsair SP120 Quiet Edition
Cables: Silverstone Tek Sleeved Cables
Lightning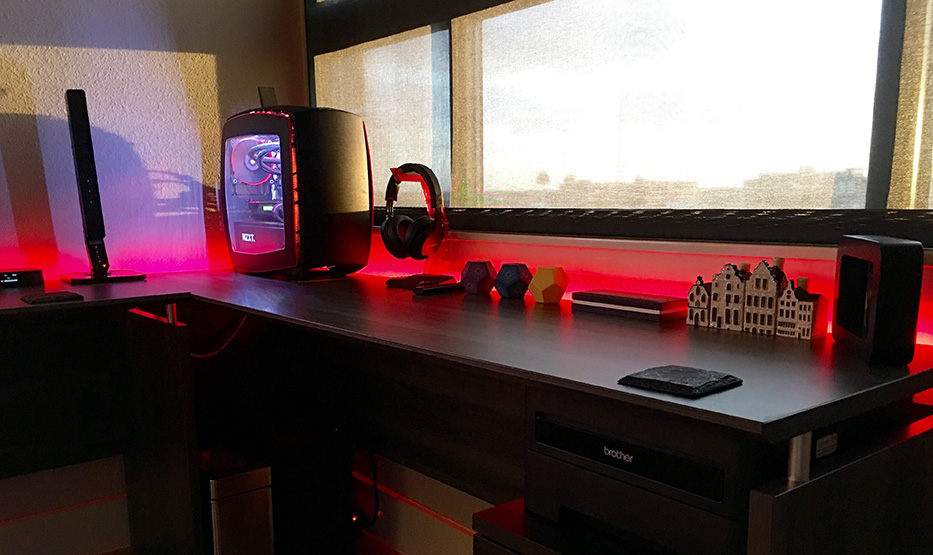 Essentially what makes this whole setup distinct – the red ambient lighting. To replicate this you would need the following components. Be sure to measure the length of the surface you are looking to cover in light strips versus the length of the light strips you are purchasing. Dependent on the length of your desk or walls, you might need more than one set of LED light strips.
SUPERNIGHT 16.4ft RGBW Color Changing LED Strip Light Kit
This essentially emits the LED lights from a simple plug-and-use light strip – it is capable of emiting lights other than red of course (fully customizable).
As you can see in the picture above, the lights are being emitted from the 'sides' behind the desk. To achieve the same effect you would have to mount the lighting strips horizontally across the back of the desk using these handy light mounting brackets – easy to install, and no-frills.
Cable Management
Let's get something straight – loose wires and cables are ugly and unsightly. Part of the appeal of a gaming setup like the above is the impression that it is clean and neat. Cable management is a tedious process but it is really simple – the whole idea is to conceal unsightly cables as much as you can. Lining them along the desk and the walls is generally a good idea.
With some meticulous planning using our handy guide above, you could replicate the same gaming setup for your very own room. If a futuristic feel is what you are going for, this is definitely one of the top gaming setups you should consider.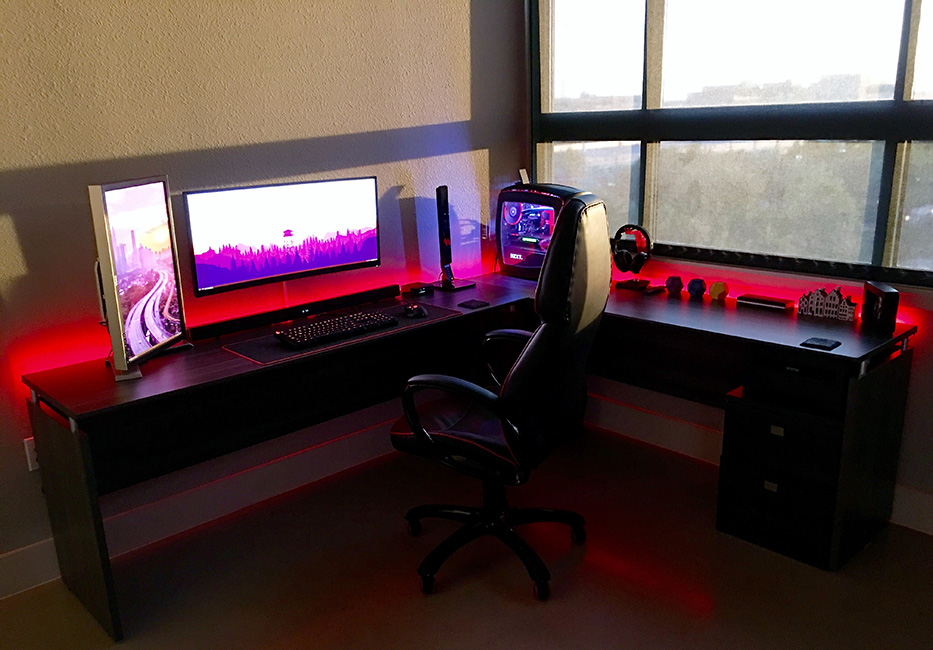 Sonya is a major in electrical engineering and is pretty much a closet-geek and gamer. Her other passion includes interior design and volunteering. Her other passion includes AAA titles, and Football Manager (a Man United fan in real-life since 1990).