During the Nintendo Direct for 2014's Electronic Entertainment Expo, the company unveiled their now hit creation, Amiibo. These devices are figures of popular Nintendo characters imbued with Near Field Communication chips. This technology allows players to unlock bonus features in their games via scanning Amiibo with one of their compatible systems.
Unsurprisingly, demand reached an immense high upon release and supply was drastically unable to accommodate their customers. Though the figures are much more available now thanks to new pressings, certain figures remain rare and newer releases tend to sell out fast. In response to this, fans sought out an alternative method of unlocking these extra features with third party Amiibo cards.
Is this Production Legal?
These cards currently exist in a sort of legal gray area. "Most people would assume it's not legal and it's probably not legal," said Bob Carter, owner of the ZeldaAmiiboCardUSA Etsy Store. "The bigger question is when and how will Nintendo take action against this new craze? Companies in China are now mass producing the NFC PVC cards, so who really knows?"
The Pseudo-Amiibo are made by pulling the code of each figure's NFC key from compatible games and writing them to newer more inexpensive NFC chips. These chips are then either pasted to the back or embedded into cards and sold on marketplaces like Etsy. They are available in designs ranging from the image above to simple white cards with names written on them.
Features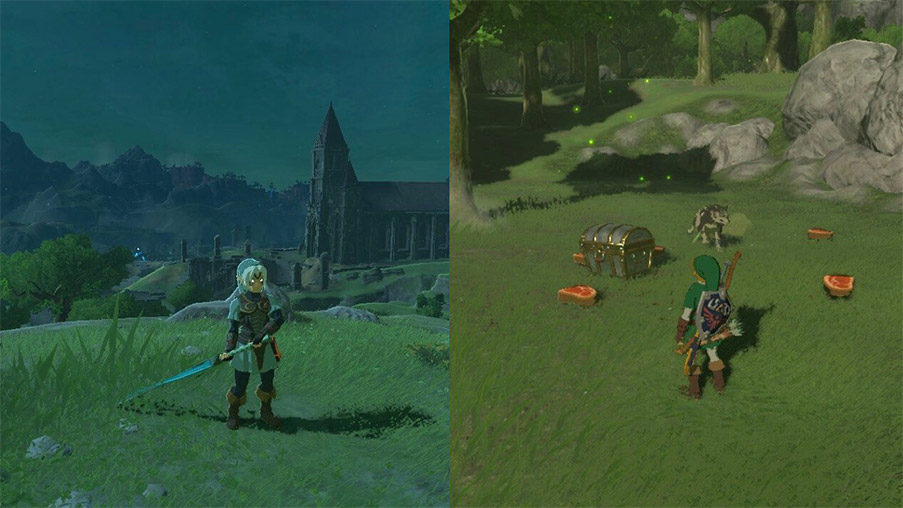 Though Amiibo have been around for years, The Legend of Zelda: Breath of the Wild drastically improved their functionality. This is why most card sellers only offer cards from The Legend of Zelda series. Using Amiibo in Breath of the Wild can give the player a random item drop corresponding to the character scanned.
Players can use these cards to do things such as slightly cheat the game. Scanning the Wolf Link Amiibo grants you a wolf companion. This companion's health is determined by how many hours you've put into The Legend of Zelda: Twilight Princess HD. However, the third party Amiibo cards tend to automatically give him maximum health. Players are then able to passively defeat difficult enemies without wasting their resources.
Players can also unlock features not yet commercially available with these cards. The Keys can be extracted before release and used in-game. For example, I purchased a Majora's Mask Amiibo card and unlocked the Fierce Deity armor on May 10th this year. The figure allowing these unlocks will not even be available until June 23rd.
If these producers continue creating these, chances are they will move on to extracting the code of new games. If not shut down by Nintendo, players will be able to gain early access to the bonus in-game features offered by upcoming games. Bob Carter stated, "This also depends on if Nintendo decides to make future games similar to Breath of the Wild with the Amiibo compatibility. So far no other game has come close to driving the demand."
An Easier Way to Acess Amiibo
These sellers have collectively moved a substantial amount of units. Their easy production, low prices and high demand beg the question, will this be the future of Amiibo? Nintendo doesn't seem to be handling the shortages well, and without takedowns across sites like Etsy, it seems that way.
These cards provide a cheaper alternative to hunting down harder to find counterparts. A card can be ordered for as cheap as $4 USD as compared to the typical $14 Amiibo figure. Bob Carter commented, "When I stumbled on the ability to replicate the amiibo with tags the idea only made sense. I wanted to make these quality products people could use as an alternative to all the out of stock amiibo." Hopefully, these stick around for players who have been unable to get their hands on these exciting features.